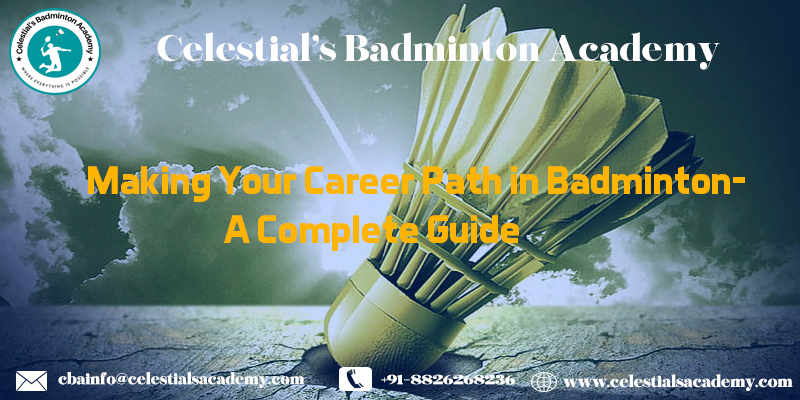 Do you love sports and want to make your career in it? Like any other sport, the game of badminton is a highly competitive and even lucrative sport in this modern era. There are many players who love to play badminton for hobby but do not know how to become a professional badminton player and make it a career. In that case, joining badminton academy can be good decision.
People who join the best badminton academy in Noida get proper couching and facilities to play and learn the required skills. Quick list of things that you need to do to make your career in badminton
Keep fit and stay healthy

Learn Basics of Badminton

Practice makes you perfect

Self-discipline

Play a wide range of contests

Play along with strong opponents

Enjoy the game

Join the academy

Take part in tournaments
Keep reading this article to understand why you need to do these things and how it will help you to make your career in this game.
Stay fit and healthy: Some people have a wrong perception that badminton does not need body fitness. It is not true, as the game of badminton demands a lot of physical strength; it is must for you to maintain a certain fitness level. Players who have a perfect body shape and a balanced lifestyle alone can become badminton pros. Regular exercise, eating the proper nutrients, necessary endurance strong mental health are the key factors that make a player start a career in badminton.
Learn Basics of Badminton: Professional badminton players are too good at understanding the basics of playing the badminton game. Besides learning the rules and regulations of the badminton sport, you ought to know some basic elements of the game such as holding your racket correctly, aware of various shots you can play, the importance of footwork, and many more. You can join the best badminton academy in Noida to learn the basics of the game.
Practice makes you perfect: Practice, Practice, and Practice; Perhaps, these words seem to be the real mantra for becoming a professional badminton player. There is no shortcut route to go pro in badminton. Statistics say that it takes more than ten thousand hours of practice to become an expert in any sport. Passionate players always use their leisure time to supplement their practice schedules. Dedicated and perfect practice is the prime key to success.
Self-discipline: The aspect of self-discipline is mandatory to become a pro badminton player. Your daily to-do-list should include your badminton practice. Remember, professional players of any sport are highly self-disciplined. Practice good discipline if you wish to make a career in badminton. Self-discipline will take you to the next higher levels in achieving your goals.
Play a wide range of contests: The journey to becoming a pro badminton player begins from the grassroots. To become a national or international reputation player, one should play and excel at various levels. Such exposure in competitive games provides an edge to your game in mastering your skills and other areas like pressure handling, maintaining the game spirit, etc.
Play along with strong opponents: Strong or experienced badminton opponents provide you with an opportunity to face different challenges during the game. Such an effort will enhance your gaming skills and prepare you to play with higher-level opponents. Professional players always teach junior players and use their tips to become professional players.
Enjoy the game: Passion is the driving element behind the succession. Enjoying the game will motivate you to focus more on the game without getting boredom. Hence, enjoy your activities both off and on the badminton court. Let your continuous enthusiasm makes you reach your goals more quickly.
Join the academy: Online coaching in sports is not a good idea due to many limitations. Hence it is wise to join the best badminton academy in Noida to attain your goals quicker in more professionally. Good academies provide the right experts for coaching the students. Such advisors help the students to achieve their goals.
Take part in tournaments: Tournaments prepare you well for international encounters. You can start from local to district level and then state to national level tournament. It will make you comfortable to play under pressure and help you build endurance to play the game. More than this, you learn how to apply the skills you learnt during practice. It is like an exam to analysis where you need to put more effort. You can use these experiences to make your game better for next tournaments.
After reading this write-up, you are now aware of how to start your career in badminton. Badminton needs many key elements to become a professional player like any other sporting proposition. However, if you use the above-referred guidelines and practice the game consistently, you can be fully confident in choosing the right badminton career path. If you are looking for a professional guidance you can visitbest badminton academy in Noida and get proper couching. Best of luck!